THE EVENT CENTRE
The EPIC Innovation Campus is home to a unique blend of Global Technology companies, entrepreneurs, collaborators and innovators. Its modern, open design building boasts a state-of-the-art Events Centre that is available for hire to all businesses, charities, clubs and community groups.
The EPIC Campus is located in the heart of Christchurch's CBD, in the Innovation Precinct. It is surrounded by many cafes for that perfect brunch, lunch or coffee.
The Lounge and the Boardroom function separately, or can be combined into one large, open space that can host up to 100 people using theatre-style seating. The event centre offers a projector and four TV screens as well as microphones, lectern, stage and a quality audio setup.  The Event Centre is ideal for presentations and has the added advantage of a projector screen in the building's Atrium, so previews can be played as guests arrive.
The Events Centre is ideal for:
Hours
The Events Centre may be booked on:
Monday – Friday
7:30am – 5:30pm, after hours negotiable 
After hour events
Hours are negotiable. Security and cleaning costs apply.
CATERING
The Operations Manager can provide a list of catering businesses who have all worked in the Events Centre and are familiar with the layout and kitchen facilities.
If catering is required for any event, the Events Centre provides:
Trestle tables

Water cooler

Glasses

Jugs

Tea and coffee mugs
OTHER
The Events Centre is available for hire to all organisations. Discounts are often available to charities or community groups.
The set up and breakdown of your event is your responsibility with plenty of chairs being available.
Parking is not available on site however ample parking is available on the surrounding streets and in nearby parking lots:
https://ccc.govt.nz/transport/parking/carpark/
Contact
Operations Manager
e: operations@epicinnovation.co.nz
p: +64 22 140 3510
Located at: 100 Manchester St, Christchurch, NZ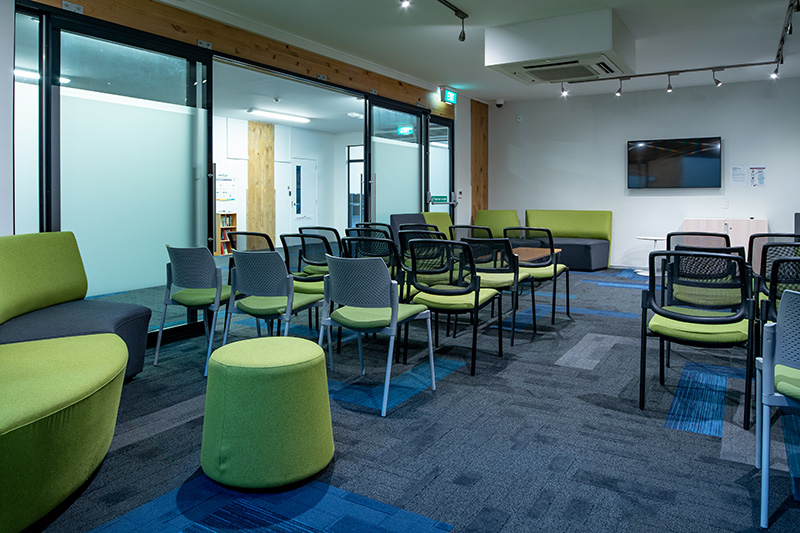 The Lounge
A large open space that offers ottoman and theatre-style seating, The Lounge has a capacity of 40 people, and is easily configurable for different function requirements. Three large screen monitors (1×75 inch and 2×42 inch) are available, a large portable white board with markers, a lectern and video conferencing.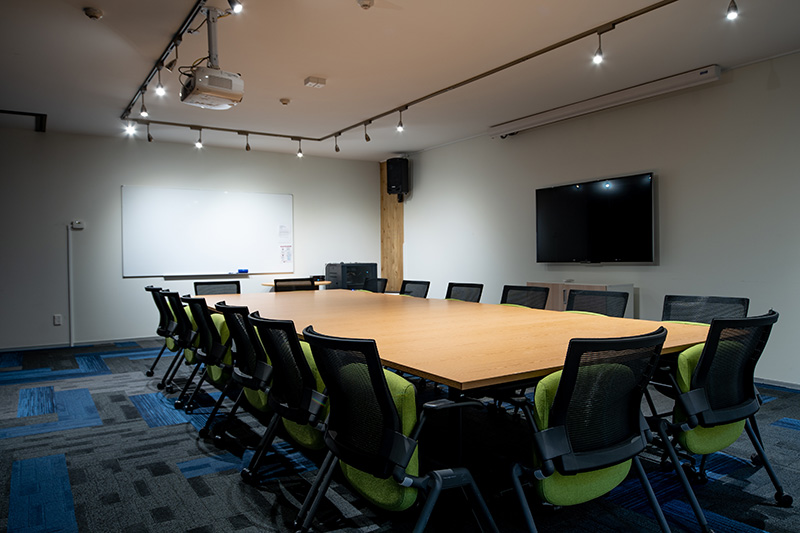 The Boardroom
A maximum of 20 people can be seated around this large boardroom table, where they can view presentations, videos and other visual displays via a large 65" screen or a projector screen. The boardroom is designed for video conferencing and offers a ceiling-mounted projector as well as the necessary connections for computers, laptops and tablets.  High-quality audio conferencing, a large wall mounted whiteboard, lectern and microphones are all available.