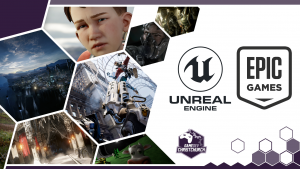 You're invited to join Epic Games for Introduction to Unreal Engine, a live training tutorial where participants will learn the basics of creating their first project in Unreal Engine.
This introductory tutorial assumes participants have basic 3D game development understanding, but no prior experience with UE4. You will learn the basics of creating a game from starter content using the UE4 Blueprint visual scripting system. Blueprints are easily leveraged by all game development disciplines, so artists, designers, and programmers are welcome.
Topics we'll cover include: project setup, controller setup, importing assets, building materials, creating character classes, creating AI, navigation, blending animation, spawning enemies, maintaining game state, and configuring in-game UI. We will also cover design principles, blueprint debugging and performance optimization techniques.
With Special Guests: David Stelzer & Chris Murphy
Chris Murphy – Epic Games
Chris Murphy is an Evangelist for Epic Games with game development credits across PC, Vive, Oculus, PS4, iOS and Android. Chris has over 10 years of experience with Unreal Engine, a Bachelor of Computer Science and a Bachelor of Multimedia, culminating in a broad skill set across a range of game development disciplines. Chris' role as Evangelist for Epic Games is to help independent game developers build successful games with Unreal Engine 4 through support, training and education.
David Stelzer – Epic Games
David Stelzer currently works in business development and licensing for Epic Games, helping developers and businesses throughout the Americas and Australia make amazing projects with the Unreal Engine. Formerly, David has been the Head of the Games department at leading entertainment and sports agency Creative Artists Agency (CAA) in Los Angeles, working with many of the industries top independent and AAA developers.
David is the current Chairman of the Board of Directors for the International Game Developers Association (IGDA) and a member of the Board of Directors for the International Game Developers Association Foundation.
Unreal Engine: https://www.unrealengine.com
Facebook: https://www.facebook.com/UnrealEngine/
Twitter: https://twitter.com/UnrealEngine
2:00 PM – Kick Off
3:30 PM – Afternoon Tea Break
5:00 PM – Wrap up
7:00 PM – Followed by Cantaru, Our Social Drinks with Devs
https://www.meetup.com/The-Christchurch-Game-Development-Meetup/events/255225247/